When you're setting out to buy a new television set, it's easy to think that even the best TVs under £500 are going to struggle to give you a half-decent picture or sufficient features – but you couldn't be more wrong.
You won't get the best specs out there at this price range – OLED TVs, 75-inch TVs, or QLED will sadly be out of your reach – but sub-£500 TVs can still offer a lot for the money, whether you're angling for a capable small TV or moving into big-screen territory.
Ultra HD image resolution is now fully possible at this price point, as TV makers shift the bulk of their production to 4K panels, though there are still plenty of models making a case for Full HD. If you want a new screen able to make the most of a PS4 Pro or Xbox One X, or to sate your binge-watching habit, then you're in luck.
Keep in mind, too, that a basic smart platform can always be upgraded with a good HDMI streaming device – say, an Amazon Fire TV or Roku streaming device – that will only add another £20-£50 to your purchase.
Of course, when it comes to design and build quality, you can't expect too much at the budget end of the market – though getting a TV with a thin bezel and simple pedestal is likely to offset how much plastic you have to look at.
A more contentious area is buying budget is HDR (High Dynamic Range). While many cut-price flatscreens will technically 'support' HDR, they don't have the power to display the kind of luminous peak brightness that really eye-catching HDR can offer.
Audio quality is also likely to be fairly routine, with low cost drivers and limited amplification. But again this can be addressed at a later date, with a soundbar or separate audio solution.
Thankfully, you don't have to wade through reams of tech specs to discover the sharpest bargain buys. TechRadar's guide to the best TVs available for under £500 will point you in the right direction…
Best TVs under £500 at a glance:
Hisense Roku TV
Samsung RU7470 LED TV
Toshiba UL5A TV
Hisense A6200
Sony Bravia KDL32WE613
What is the best TV under £500?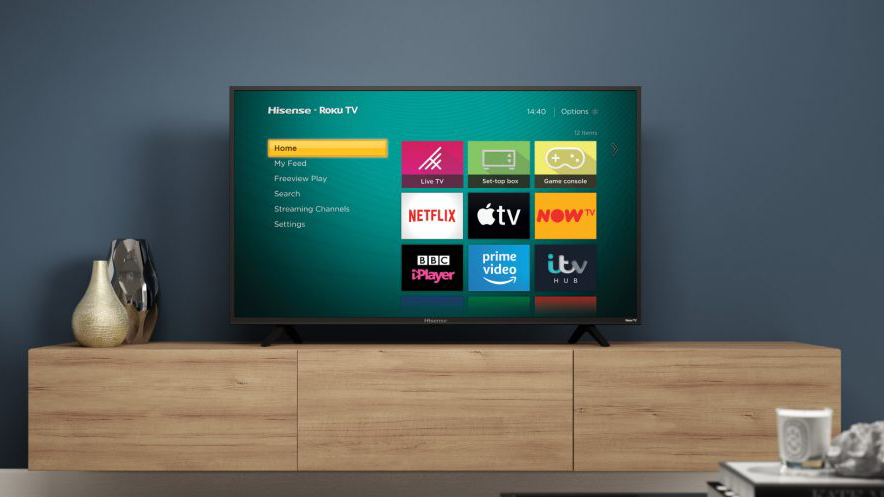 There have been plenty of Hisense TVs with the Roku OS before – but this is the first time the winning collaboration has come to the UK.
Exclusive to Argos, the Hisense Roku TV is brilliantly cheap, with an exceptional picture for its sub-£500 price. While it's available in 43-inch, 50-inch, 55-inch, and 65-inch sizes, only the 65-inch goes above that price bracket – meaning you can get a pretty sizeable television at a pretty low price.
While the upscaling isn't the best around, and long panning shots have a tendency to blur and judder a little bit – the strengths of this set overwhelm its flaws, with dazzling colour output and HDR that really punches even in such an affordable set.
The Roku interface is also highly straightforward and easy to navigate – especially if you've made use of it on a Roku streaming stick before. Make no mistake: this is a brilliant television to buy on a budget.
Read our full Hisense Roku TV review
Worried you might be skimping on quality at a smaller size? Don't be, as Samsung has once again proved that you can pack in a capable panel and processor even for an affordable sub-£500 television.
The Samsung RU7470 is only £399 at its smallest 43-inch size, packing in 4K resolution as well as HDR and the dynamic HDR10+ format. The Tizen OS doesn't hurt, either, with a clean and intuitive interface deserving of this mid-range set.
While the benefits of 4K may be less obvious on a 43-inch screen – compared to, say, a 75-inch display – but the detail is still apparent, while upscaling from SD and HD sources is market-leading for the price range. Certainly one of the best TVs you can choose in the 40-inch category.
Viewing angles could be better, but if you're not crowding a number of people around such a modestly-sized screen, you likely won't run into trouble too often.
The RU7470 is technically a UK-only set – and exclusive to Currys – though its close sibling, the RU7100, should offer a similar experience elsewhere.
Read our full Samsung RU7470 review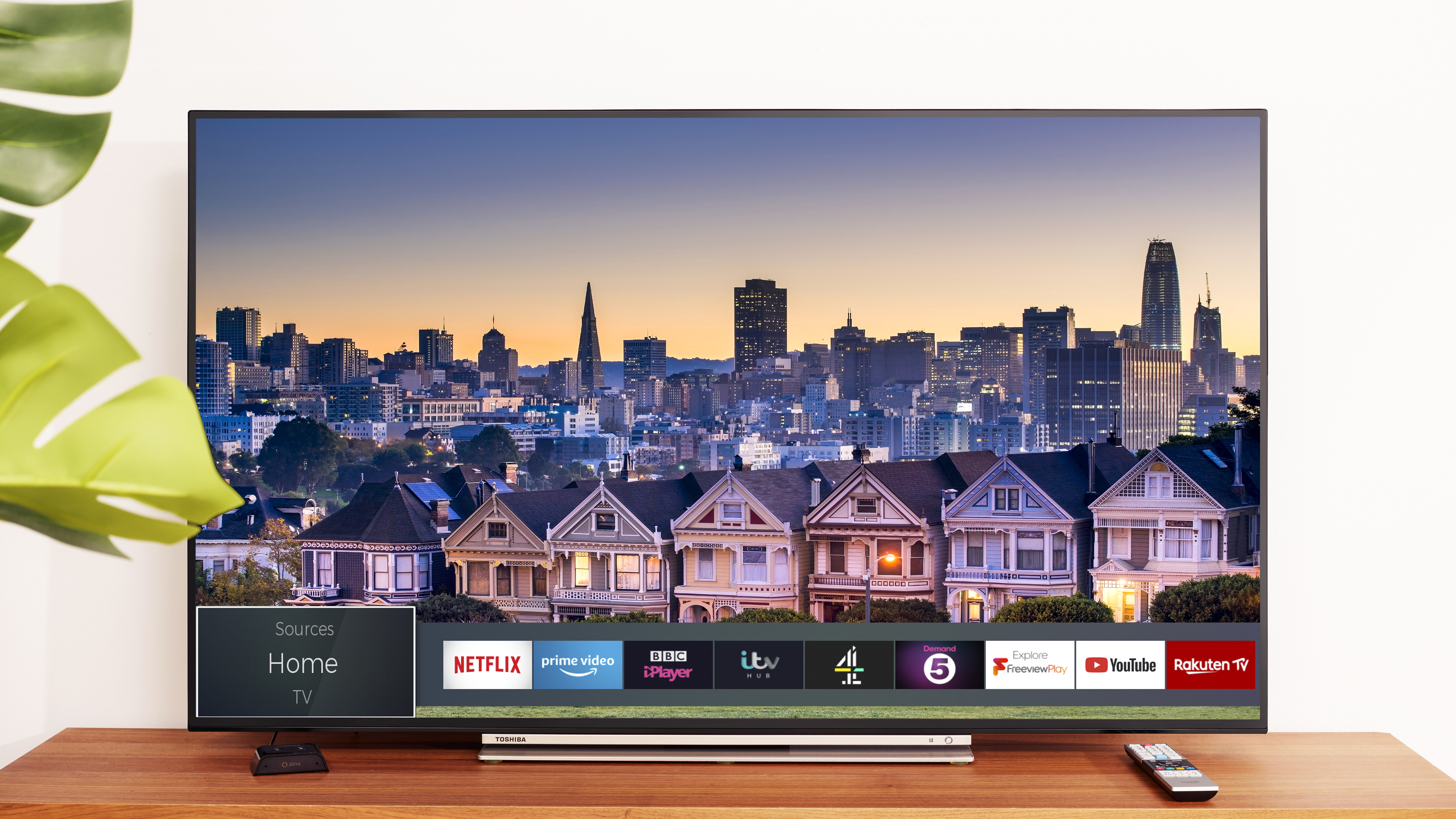 Toshiba is one of those electronics companies most at home in the sub-£500 space, offering budget panels with more features than you might expect at the price – even if it can't quite handle them as expertly as more premium sets.
2019 saw a new bout of Toshiba 4K TVs, including the UL5A listed here. The 5 Series television is a budget 4K HDR set with a unique Alexa accessory: a plug-in microphone you can attach to your TV via USB, as a workaround for a voice-compatible remote.
It's not quite as reliable as an Amazon Echo speaker, though, and has a tendency to unmute itself (presumably due to the basic spring mechanism used in the accessory). And while the set supports HDR, there isn't really the brightness or processing smarts needed to really make it shine.
The TV as a whole, though, offers a range of formats, features, and voice capability beyond its humble pricing, and is certainly worth considering for only £349 at the 43-inch size.
You may also want to consider the Toshiba VL5A, which has a quieter audio output but front-facing speakers for more direct sound – not quite enough to justify a different model, perhaps, but the option's there if you want it.
Read our full Toshiba UL5A TV review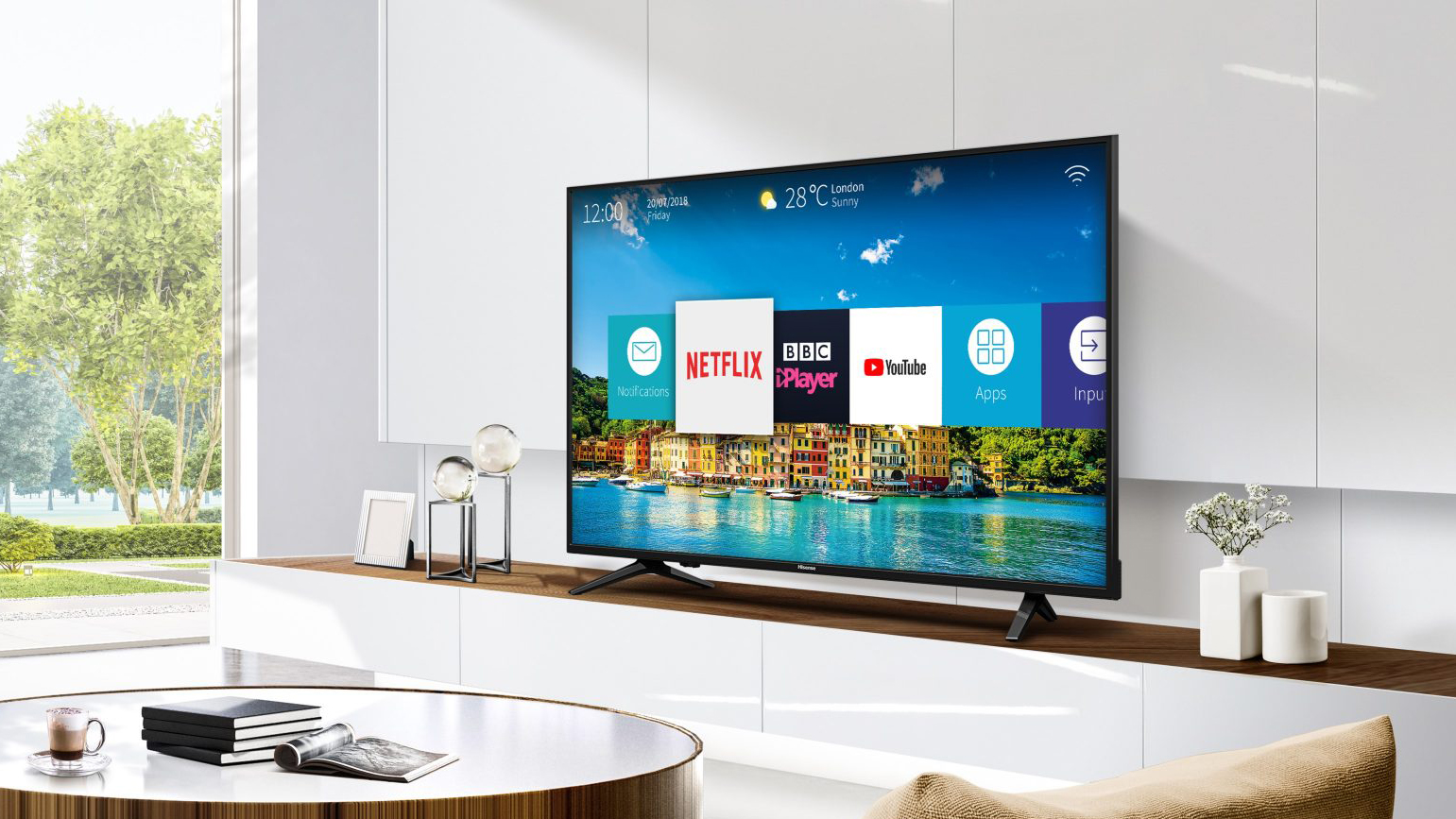 Why spend a whole £500? While skimping further on your budget will necessitate more compromises, this year's Hisense A6200 is a solid, affordable 4K TV with a great picture and color accuracy beyond what we might expect of the price.
Size matters when it comes to 4K, too, which is why a 50-inch screen for less than 500 smackers is extremely enticing. (It also comes in 43, 55, and 65 inches.)
That said, Hisense has a reputation for value, which is typified by this budget beater: A Freeview Play tuner ensures a full raft of catch-up services, including UK Play, while Hisense's own Vidaa Lite smart portal offers Netflix 4K, Amazon Video, YouTube and Wuaki TV.
Build quality and design are much better than you might expect at this price point, and connections include three HDMIs with an option for component for legacy gear.
The A6200 is technically HDR (High Dynamic Range) compatible, though it struggles to deliver on that promise. HDR content is made for a minimum of 1000 nits brightness, so this 200 nits display was always going to struggle with those demands. The 4K, however, is reliably sharp, even if some of the more popping colors and light detail don't show through here.
Overall, the Hisense A6200 should be considered very good value.
Read our full Hisense A6200UK review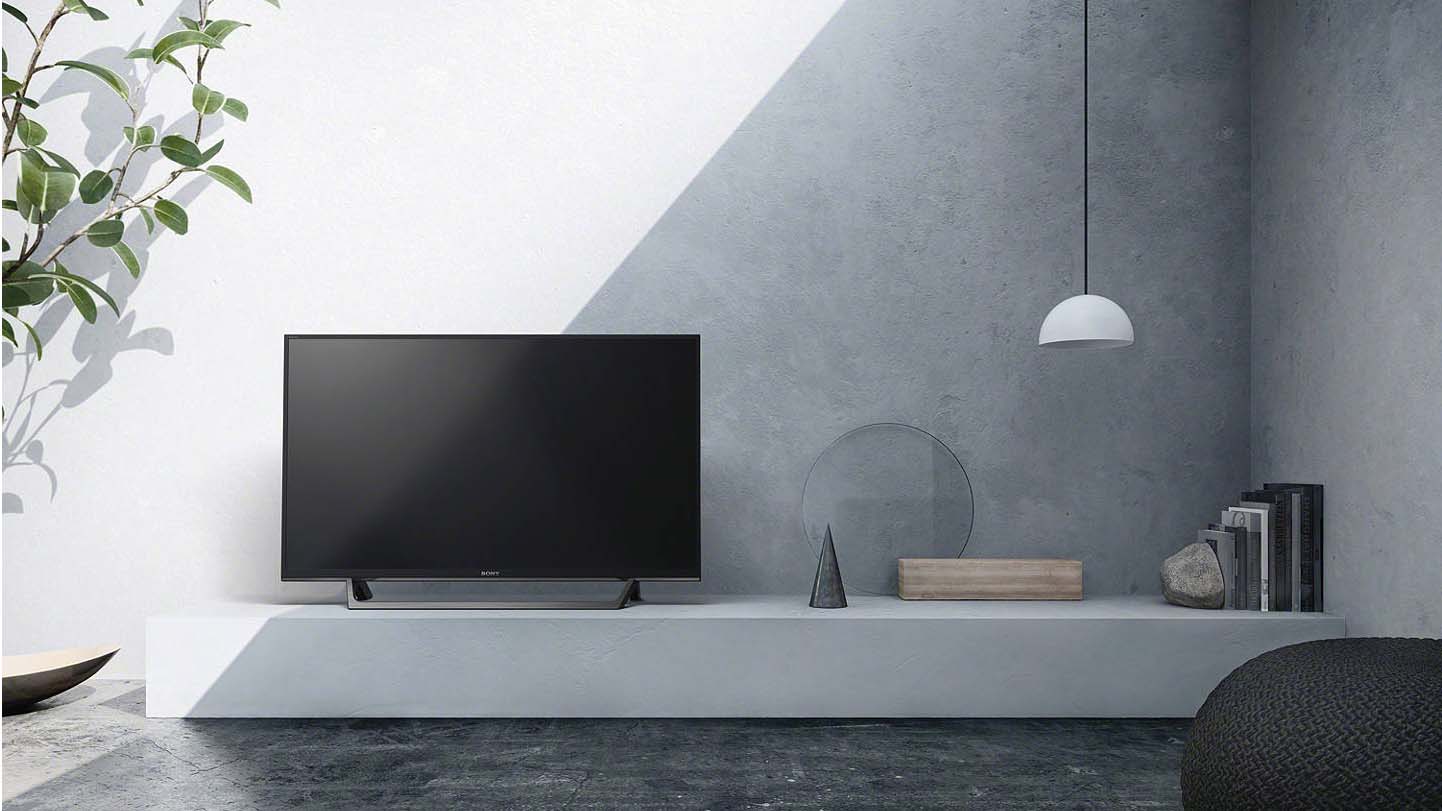 If you're more interested in the quality of the picture for HD/SDR content, rather than the size of the display, then the Sony Bravia KDL32WE613 may be the one for you.
Coming in at only 32-inches, it's another compact set that won't take up much space. Not one for big groups, or to fill a family-sized living room, but ideal for smaller residential spaces.
Despite the smaller size, Sony's forward-looking set still incorporates HDR standard pictures (High Dynamic Range), despite this usually being saved for the larger or more expensive sets out there. So you'll get more out of HDR compatible content when gaming or streaming on a high-tier Netflix account.
The Sony KDL32WE613 is only 720p resolution, so don't expect Full HD pixel quality, or anything close to 4K. But you'll find this more satisfying to watch than a lot of 720p screens. The TV also offers recording over USB, Wi-Fi and access to BBC iPlayer, YouTube and a fistful of other apps.
It's worth noting that we haven't reviewed this particular set – unlike the three models listed above – but if you don't want to break £300, it may be one to consider.